International Symposium on Engineering Stimuli-responsive Nanomaterials for Drug Delivery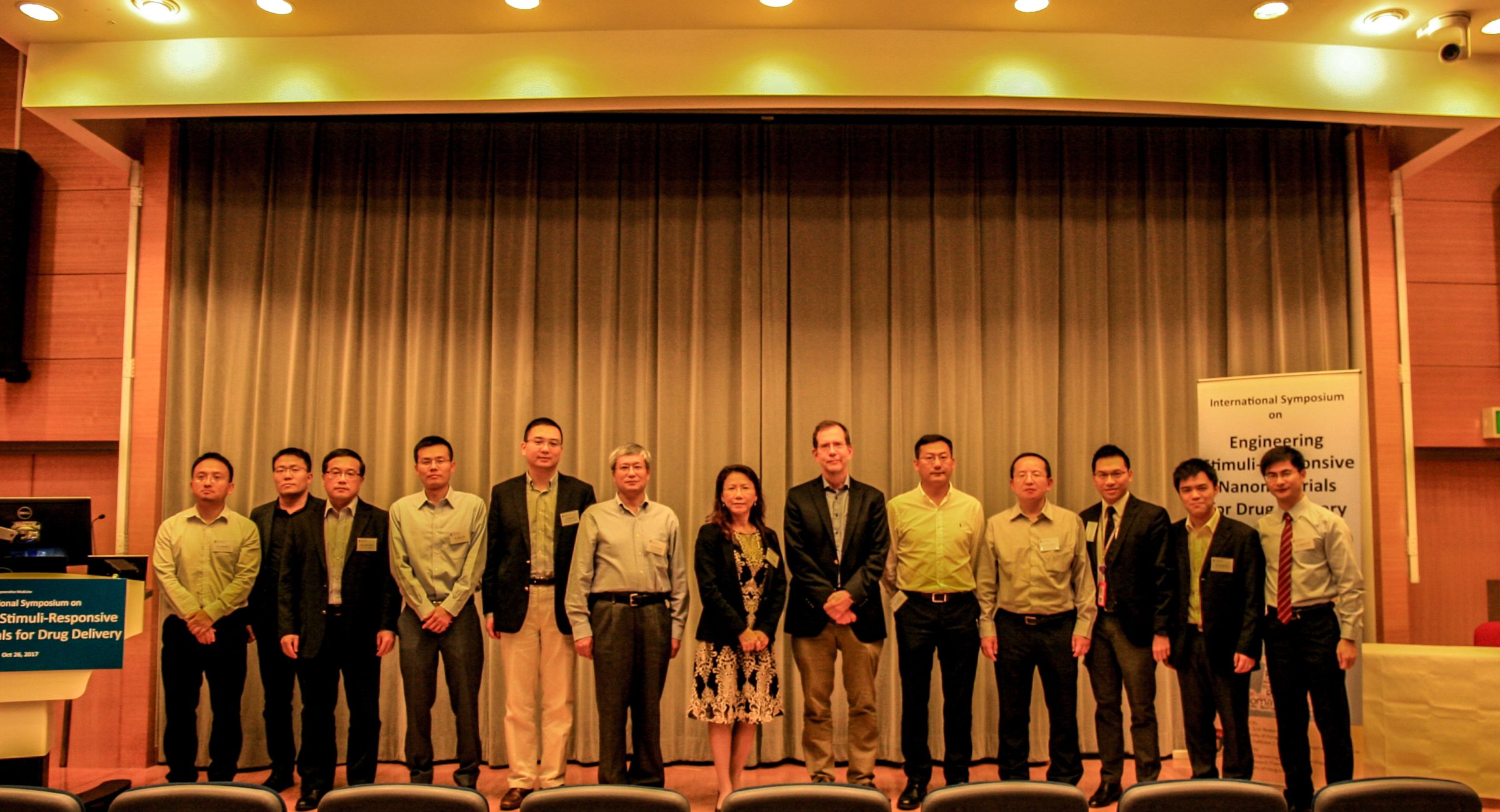 Thanks to all speakers, audience and helpers!
The symposium offers presentations by invited speakers from around the world, who will cover the design rationale of stimuli-responsive nanomaterials and biomedical applications of the materials in cancer therapy, diabetes treatment, regenerative medicine and tissue engineering. The symposium provides a unique opportunity for interaction and networking among attendees with different academic backgrounds. Graduate students and postdoctoral fellows are particularly encouraged to participate.
Register Here
Date:  26 October 2017 (Thursday)
Time: 10:45 a.m. - 6:00 p.m.
Venue:  Cheung Kung Hai Lecture Theatre 1, William M.W. Mong Block, Faculty of Medicine Building,
Symposium Programme:
10:50-11:00 Prof. LEUNG Suet Yi  The University of Hong Kong
Welcome & Opening Remarks
Session Chair: Dr. YUENG Kelvin, The University of Hong Kong                  
11:00-11:35 Dr. BIAN Liming The Chinese University of Hong Kong
Title: Nanoscale Biomaterials for Regulating Stem Cell Behaviors and Promoting In-situ Tissue Regeneration
11:35-12:10 Prof. CHEN Xuesi Changchun Institute of Applied Chemistry, Chinese Academy of Sciences
Title: Combination of Nanomedicine and Vascular Disrupting Agent for Cancer Therapy
12:10-12:45 Prof. WANG Jun South China University of Technology
Title: Tumor Microenvironment-Targeted Nanomedicine for Enhanced Cancer Therapy
Session Chair: Dr. SHUM Anderson The University of Hong Kong
14:00-14:35 Prof. WANG Min The University of Hong Kong
Title: New Theranostics for Early Detection and Effective Treatment of Cancer
14:35-15:10 Dr. XU Chenjie Nanyang Technological University
Title: Stimuli-responsive Micro/nanotechnologies for Theranosis in Tissue Engineering
15:10-15:45 Dr. GE Zhishen  University of Science and Technology of China
Title: Tumor Microenvironment-Responsive Block Copolymers for Drug Delivery to Overcome Physiological Barriers
16:15-16:50 Prof. ZHAO Yue Université de Sherbrooke
Title: Exploring Stimulus-triggered Shifting of Critical Solution Temperature for Polymer Micelle Disruption
16:50-17:25 Dr. GU Zhen University of North Carolina at Chapel Hill and North Carolina State University
Title: Bio-responsive Drug Delivery by Artificial Cells and Real Cells
17:25-18:00 Dr. SHI Jinjun Harvard Medical School
Title: Bioresponsive RNA Nanomedicines for Cancer Therapy
18:00-18:10 Prof. TAM Paul The University of Hong Kong
Closing Remarks
Dr. Li Dak-Sum Research Centre, The University of Hong Kong – Karolinska Institutet Collaboration in Regenerative Medicine
Sponsor:
Strategic Research Theme: Biomedical Engineering and Nanotechnology
~~ ALL INTERESTED ARE WELCOME ~~